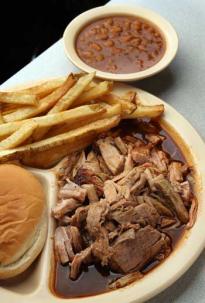 Welcome to
Wallace Barbecue.com.
Us folks here at Wallace Barbecue specialize in everything from
pit cooked beef and pork
barbecue to Brunswick stew
and such southern style items such as ribs, chicken, hotdogs, hamburgers and steaks. Oh yah, and our sweet tea is good too!!! We are located in Austell,
Georgia and service the Metro Atlanta community.


We also can cater you events. Opened for business in 1966, Wallace Barbecue has become world-renowned.


Many, many years ago, 1966 to be exact, Gerald Wallace
started the Wallace Barbecue Restaurant in Austell, Georgia. In 1972, Gerald's sister, Martha Taylor and her husband, Mickey
took over the original Wallace Barbecue restaurant. In 1988, an new restaurant was built, down the street from the original
location and is still at this location to this day!

Here at Wallace Barbecue, you can either dine in with us
at our restaurant, or you can take our food home with you.
We also can cater you events.